Foods are items that restore hunger points on consumption (as shown in the Hunger bar) and have a direct bearing on the player's health (see 'hunger' for more on effects). Except for milk, cake, and mushroom stew, food items and ingredients can be stacked in the inventory. Holding the "Use Item" button (default is Button 2, right mouse button) makes the player eat the food in their hand. With the exception of Golden Apples, food may not be eaten when the hunger bar is full.
Food ItemsEdit
The Donut
Edit

Since the introduction of
tall grass
, Donuts, like bread are arguably among the most efficient early sustainable foods sources, with only
mushroom stew
easier to produce (in certain environments). By building farms out into open water,
Wheat
production can be started on Day 1 with no other tools than a Wooden
Hoe
. With a little luck at night,
Bone Meal
will ensure you have your first donuts before dawn. Donuts have the advantage of not requiring a furnace or fuel, although lighting the farm up to the required light level of 9 for constant crop growth will consume some amount of coal or charcoal.
Restores:Edit
16
Saturation Effect:Edit
0.3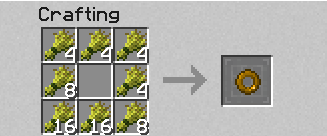 Ingredients: Wheat

Bacon is an easily obtainable food that requires nothing other than killing pigs. It is likely the easiest food to be obtained cheaply and easily, especially to newcoming players. Turning pork into bacon creates the advantage of healing more throughout the 6 pieces of bacon than the piece of pork.
Restores:Edit
5
Saturation Effect:Edit
3.0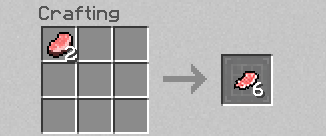 Ingredients: Pork
Watermelons
Edit

Watermelons can be obtained by being crafted from melon slices. Although they are not the easiest food to be obtained for newcomers, their advantage is the whole melon heals more than all the 6 slices that go into creating it.
Restores:Edit
16
Saturation Effect:Edit
5.0
Ingredients: Melon Slices
Mini Pizzas
Edit

Mini pizzas are a cheap and highly efficient item that can be crafted. They can be seen as a food such as a cake as it is stackable and multiples are made within one recipe.
Restores:Edit
16
Saturation Effect:Edit
0.3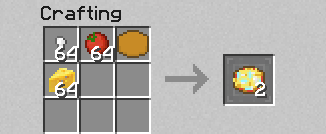 Ingredients: White Mushroom, Tomato, Pizza Dough, Cheese
Recipe for dough:Edit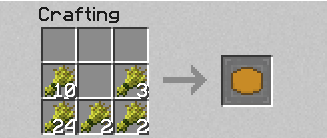 Ingredients: Wheat
Chicken Dinner
Edit

Chicken dinners are the item that will feed you most and have the largest saturation in Minecraft. They are made from a few easily obtainable foods making them very profitable. Although originally called "Turkey Dinners", due to the logic error of it consisting chicken, it was renamed to Chicken Dinner in 1.4
Restores:Edit
20.0
Saturation Effect:Edit
20.0
Ingredients: Bread, Cooked Chicken, Mushroom Soup, White Mushrooms
Boiled Eggs
Edit

Boiled eggs are a cheap and easy food to obtain. However, they do not heal much nor have large saturation. They can be obtained via putting an egg in a furnace as of 1.4
Restores:Edit
4
Saturation Effect:Edit
0.5